---
---
While HuntStand is the most full-featured free hunting map on the market, we strongly believe that access to great information should be widely accessible and affordable. You can upgrade to HuntStand Pro to unlock some amazing features and tools including:
Real 3D:
View your Hunt Areas in our revolutionary real 3D. All of your markers, lines, and shapes will conform perfectly to the 3D base map, allowing you to understand the topography of your Hunt Area like never before. Through panning and zooming you can virtually "fly through" places you would like to explore.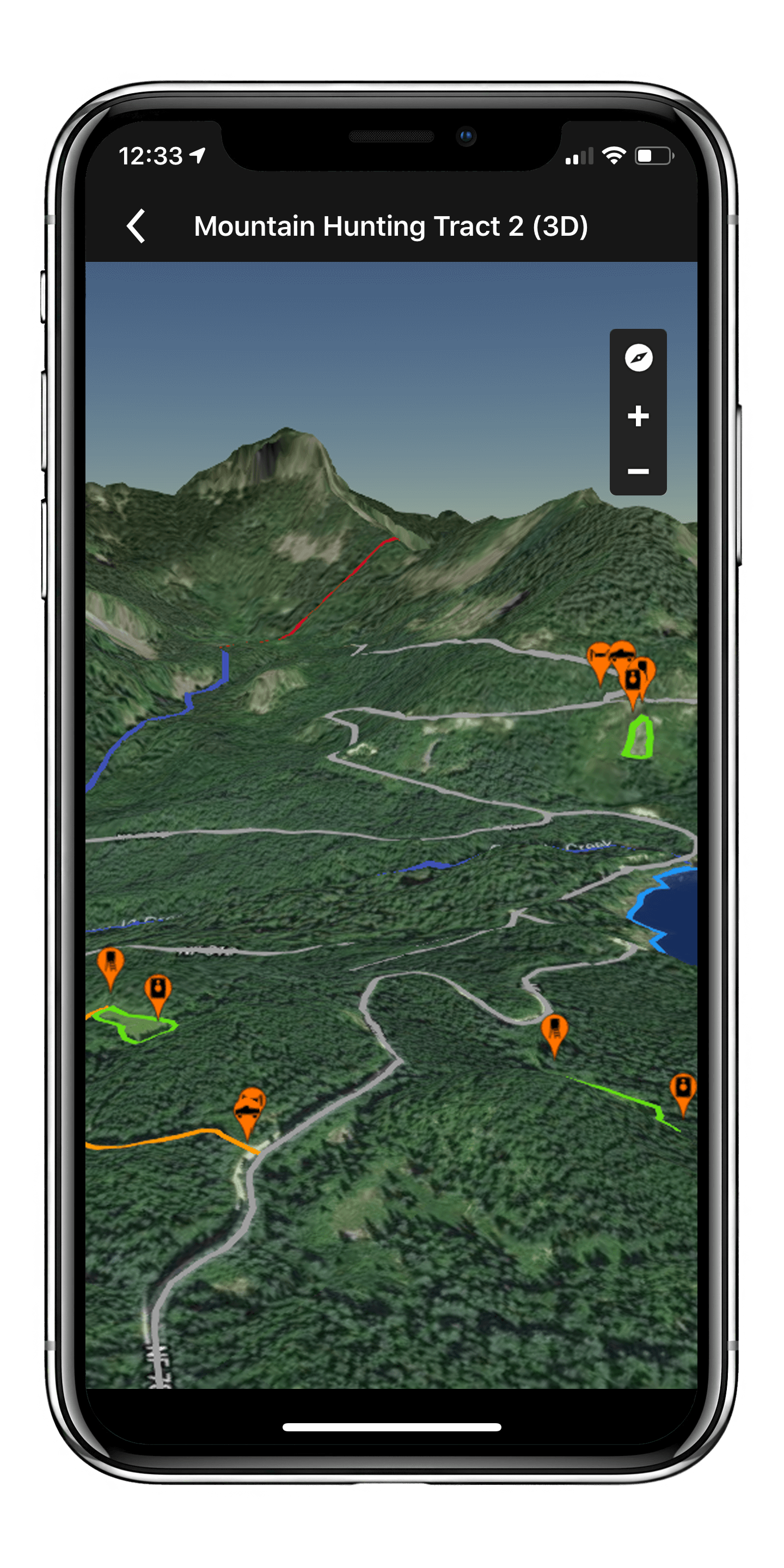 ---
Property Boundaries:
Unlimited nationwide property info including boundaries, owner names, property size, and property perimeter. Best of all, you can add these boundaries to your custom maps with the touch of a button. See our current boundary availability.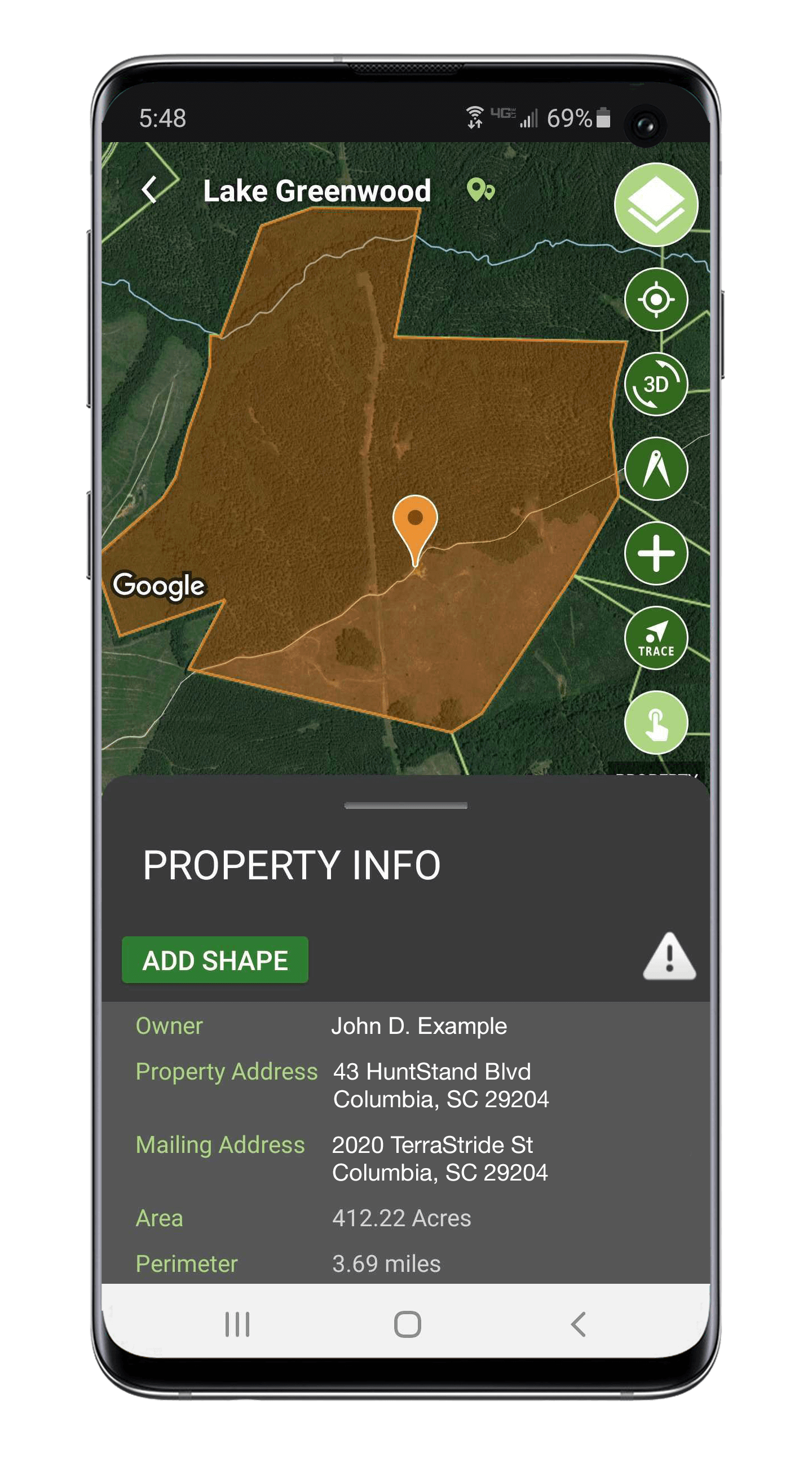 ---
Offline Mapping:
Ditch the GPS with HuntStand's full offline mapping. With the tap of a button save your Hunt Area to your phone for uninterrupted use, even without cell phone coverage.
*Satellite layer only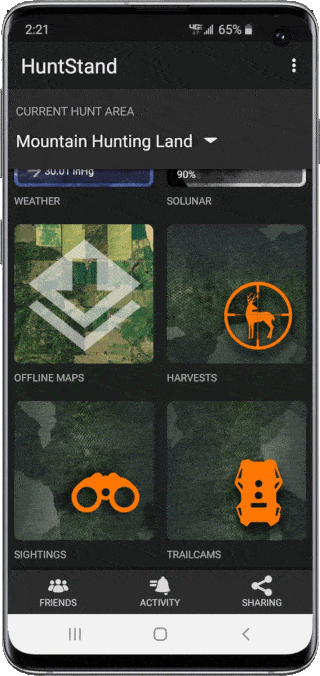 ---
Stand Reservations:
Use hunt area sharing to manage stand reservations on your property. Search for available stands/blinds in a hunt area by date and time. See what stands are occupied currently, and by whom. See upcoming reservations for specific stands, or all stands in a group hunt area. Manage stands in a group hunt area. Manage reservations in a group hunt area. Learn more about Stand Reservations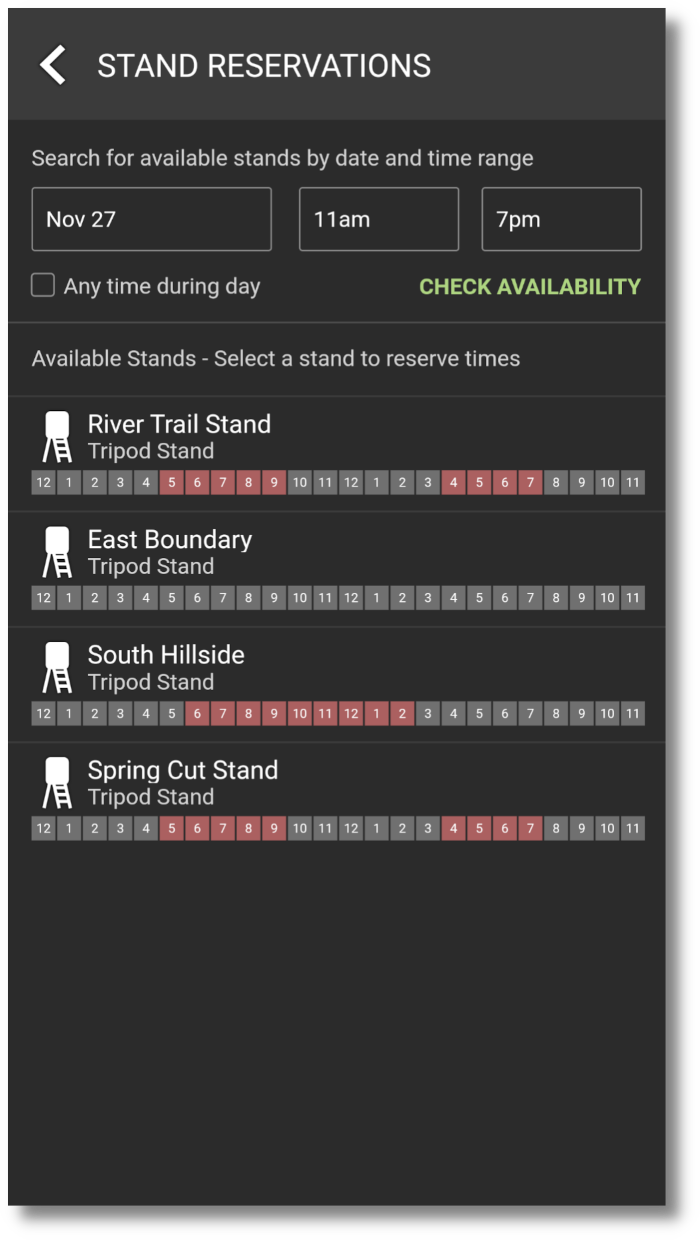 ---
Trail Camera Management:
Create trail camera markers, add photos to those trail cameras, tag photos and easily aggregate time, weather, and atmopheric data from those photos for free. Pro members unlock premium trail camera features, including automatic animal tagging using image recognition, detailed heatmaps of game activity and movement predictions, unlimited custom tags, and 40GB of free storage space. Learn more about Trail Camera Management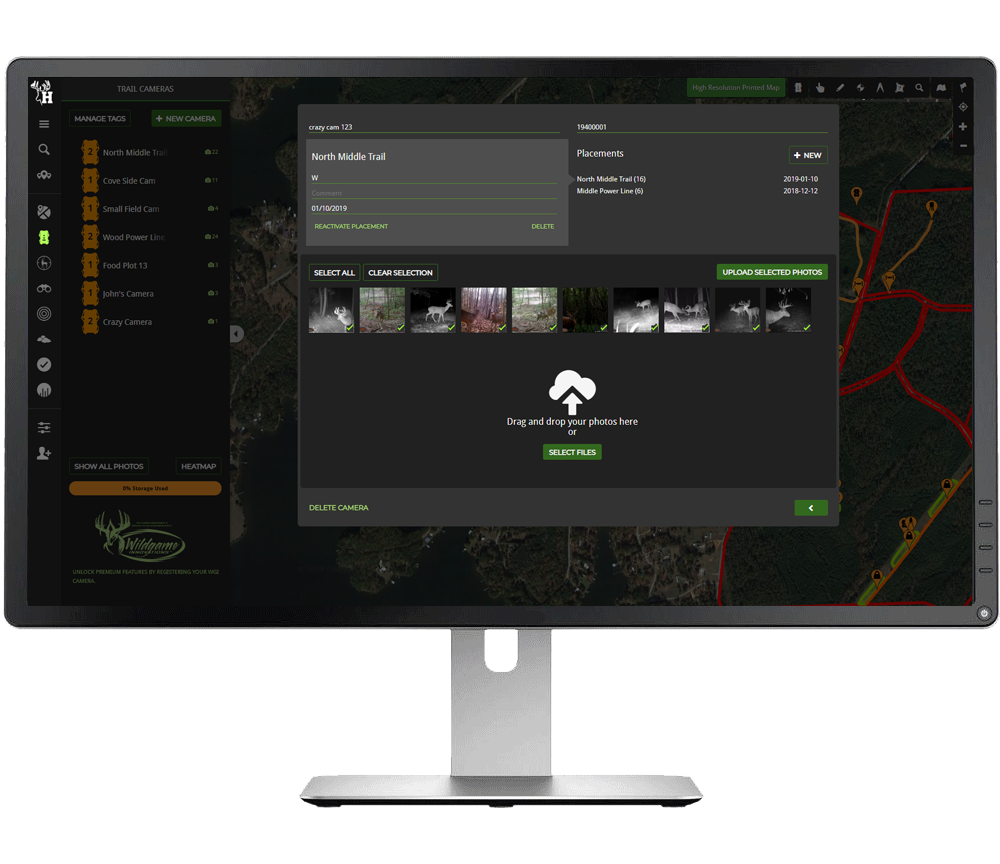 ---
Hunting Land:
Expand your awareness of huntable land everywhere with our nationwide database of publicly accessible hunting land. This layer includes WMAs, DNR boundaries, GMUs, hunting units, zones, districts, regions, boundaries with regulations, natural areas, conservation lands, habitats, and more.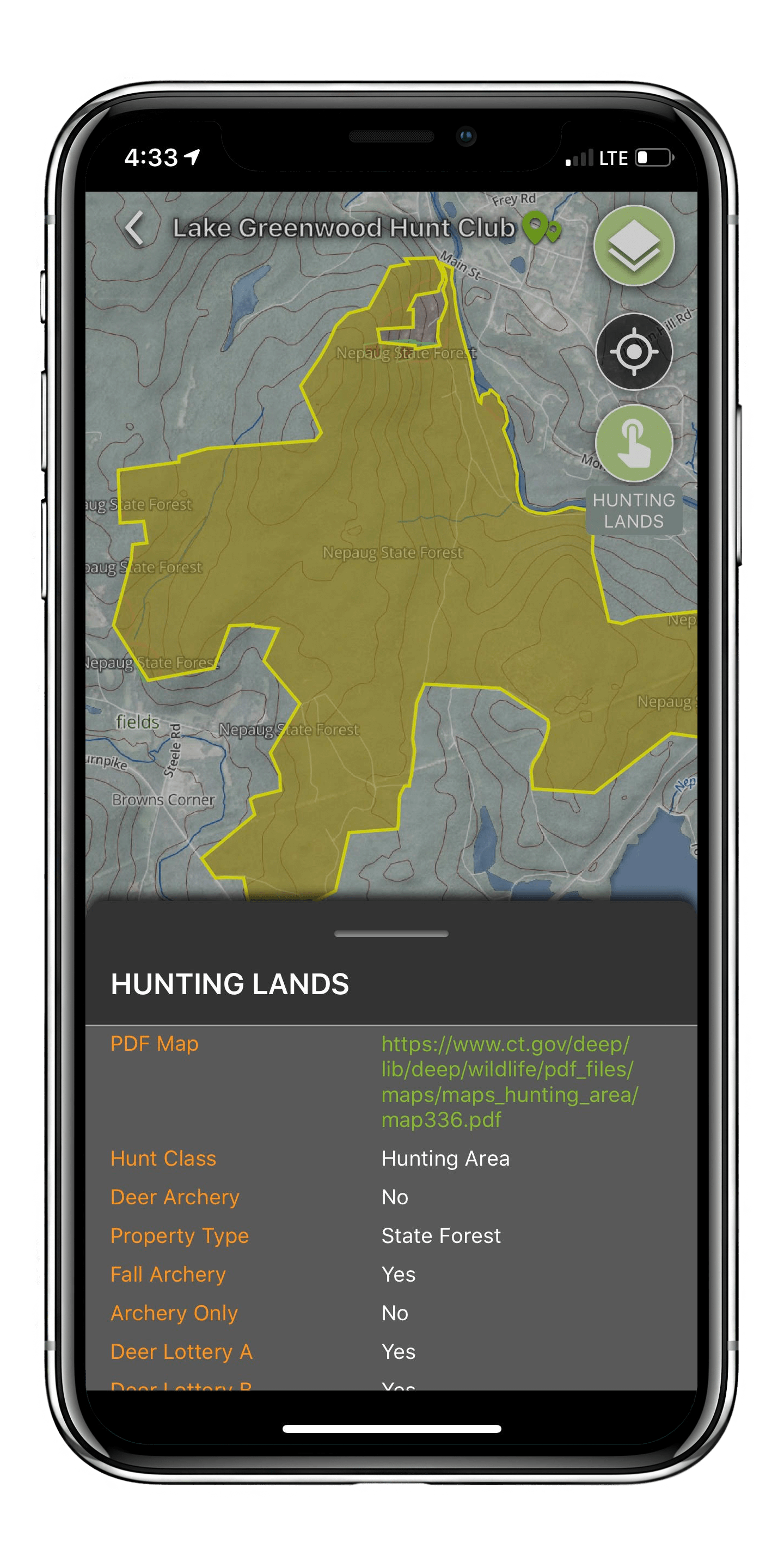 ---
Ad Free:
Hide all the ads with a HuntStand Pro subscription for a streamlined in-app experience.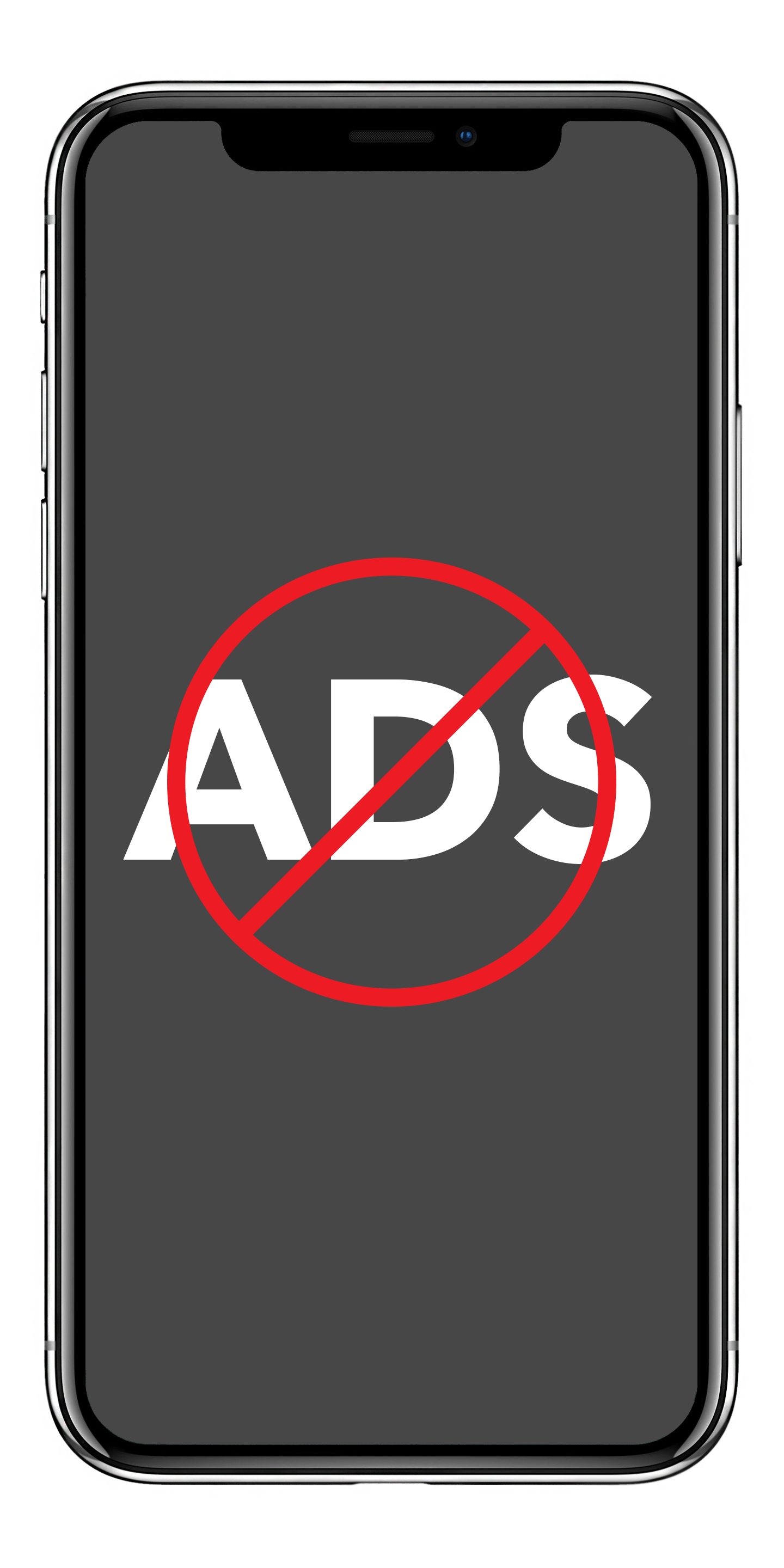 ---
Public Lands:
Federal, state, and county publicly accessible lands including BLM, national and state forests and parks, Fish and Wildlife, DNR, conservation areas, public easements, and more.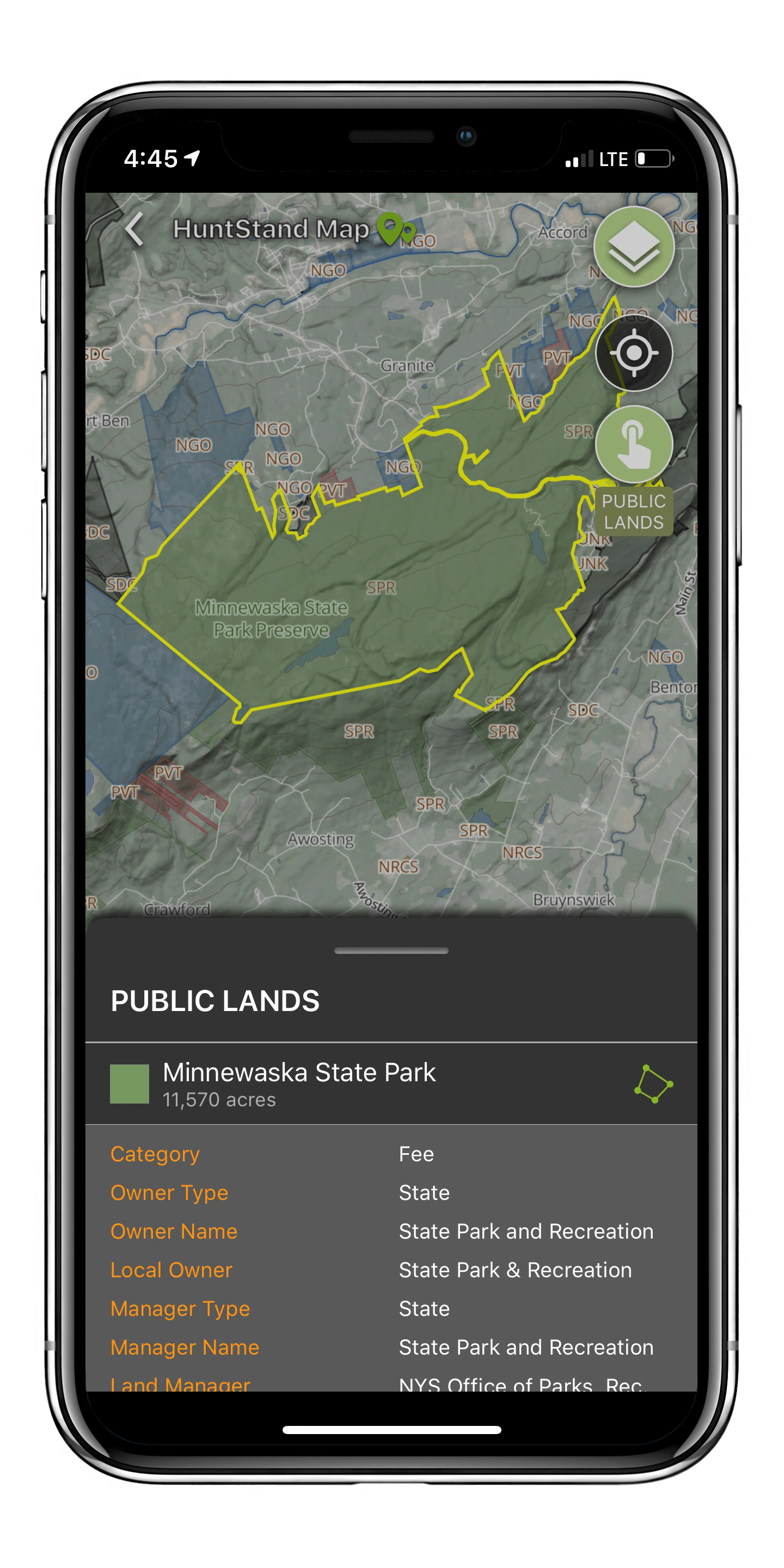 ---
TerraPulse Tree Cover:
Utilizing the power of NASA satellites with climate monitoring technology, enjoy exclusive access to the most comprehensive tree cover and vegetation map ever offered to the public. This layer distinguishes between trees and other types of vegetation that support big game habitat suitability.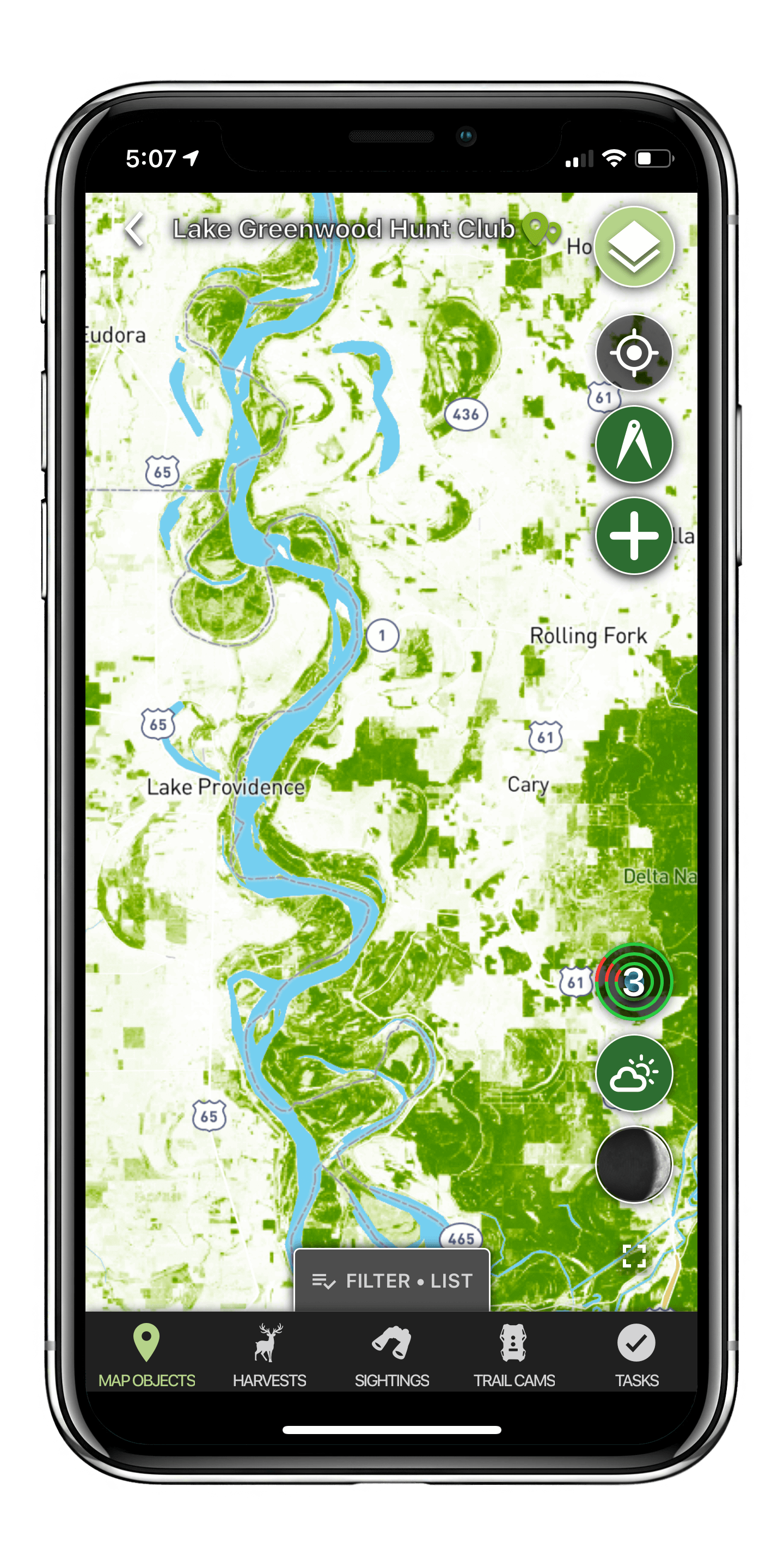 ---
Natural Atlas presented by Yamaha™:
The most comprehensive and accurate map of the United States' outdoors. With this layer you will have access to a highly detailed topo map overlaid on top of trails, ATV and 4X4 roads, forest roads, campgrounds, parks, natural points of interest, access locations, and more.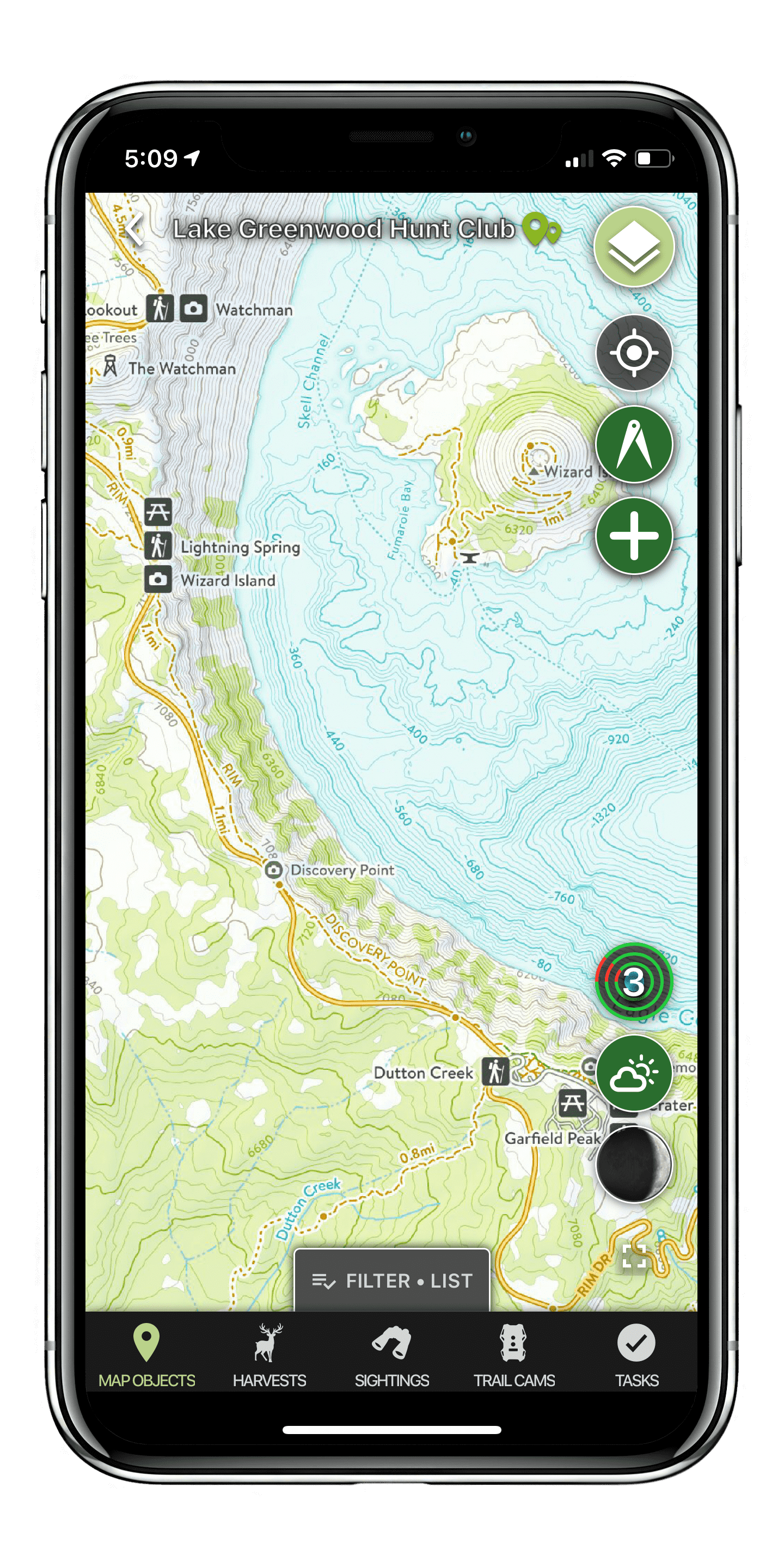 ---
Digital Globe VividTM & MapBox Satellite Layers:
One is never enough. Receive access to the revolutionary Digital Globe VividTM layer to see recent (usually less than 1.5 years old) and cloud-free images across the world. Also access perfectly blended and color-corrected imagery from Mapbox, a global leader in technology. With more options at your disposal you can pick the one that works best with your Hunt Area.
Digital Globe Vivid
TM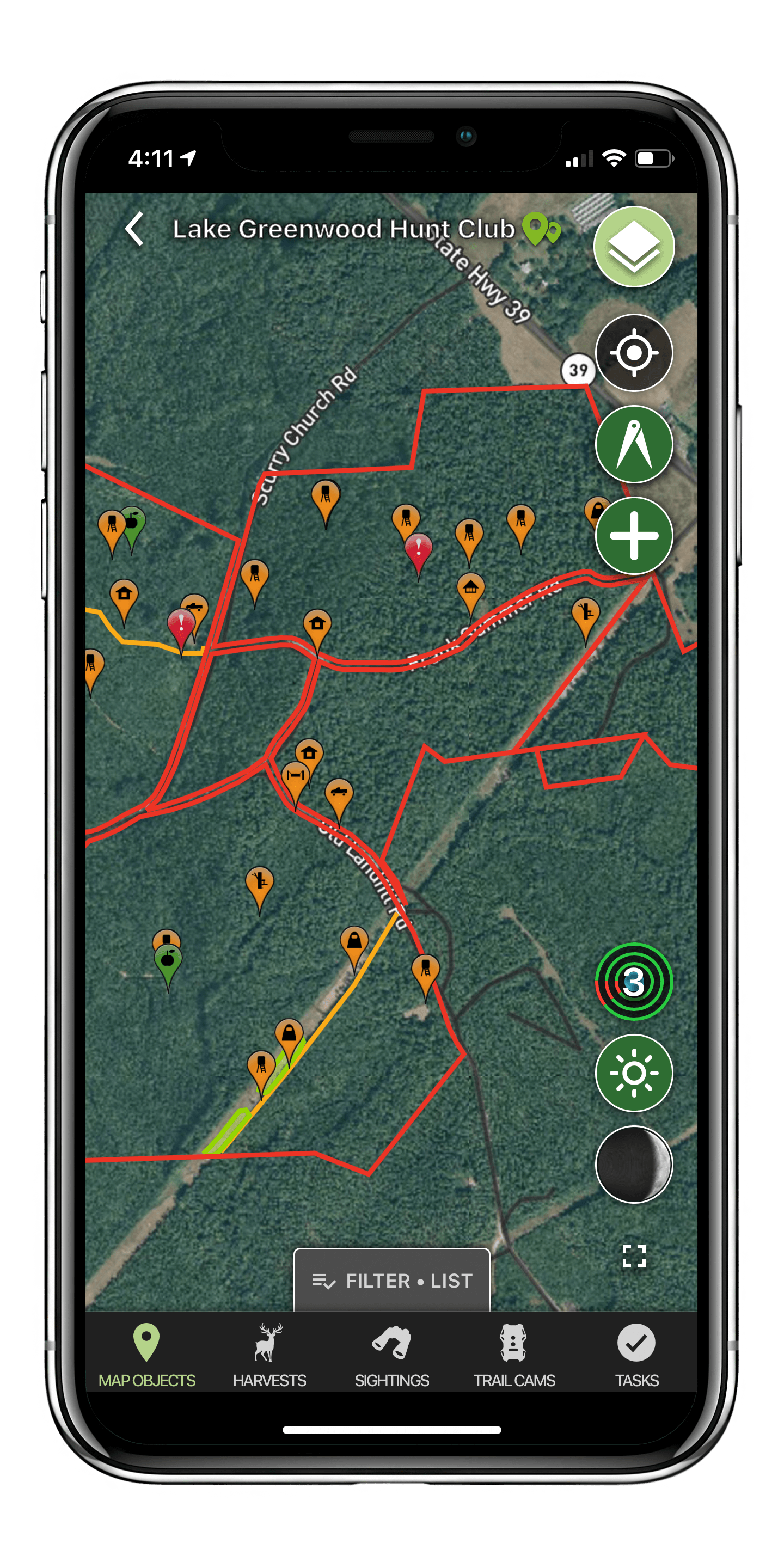 MapBox Satellite
---
---
Create Your Own Maps:
Use our advanced mapping tools to easily create vivid and detailed maps of your Hunt Areas.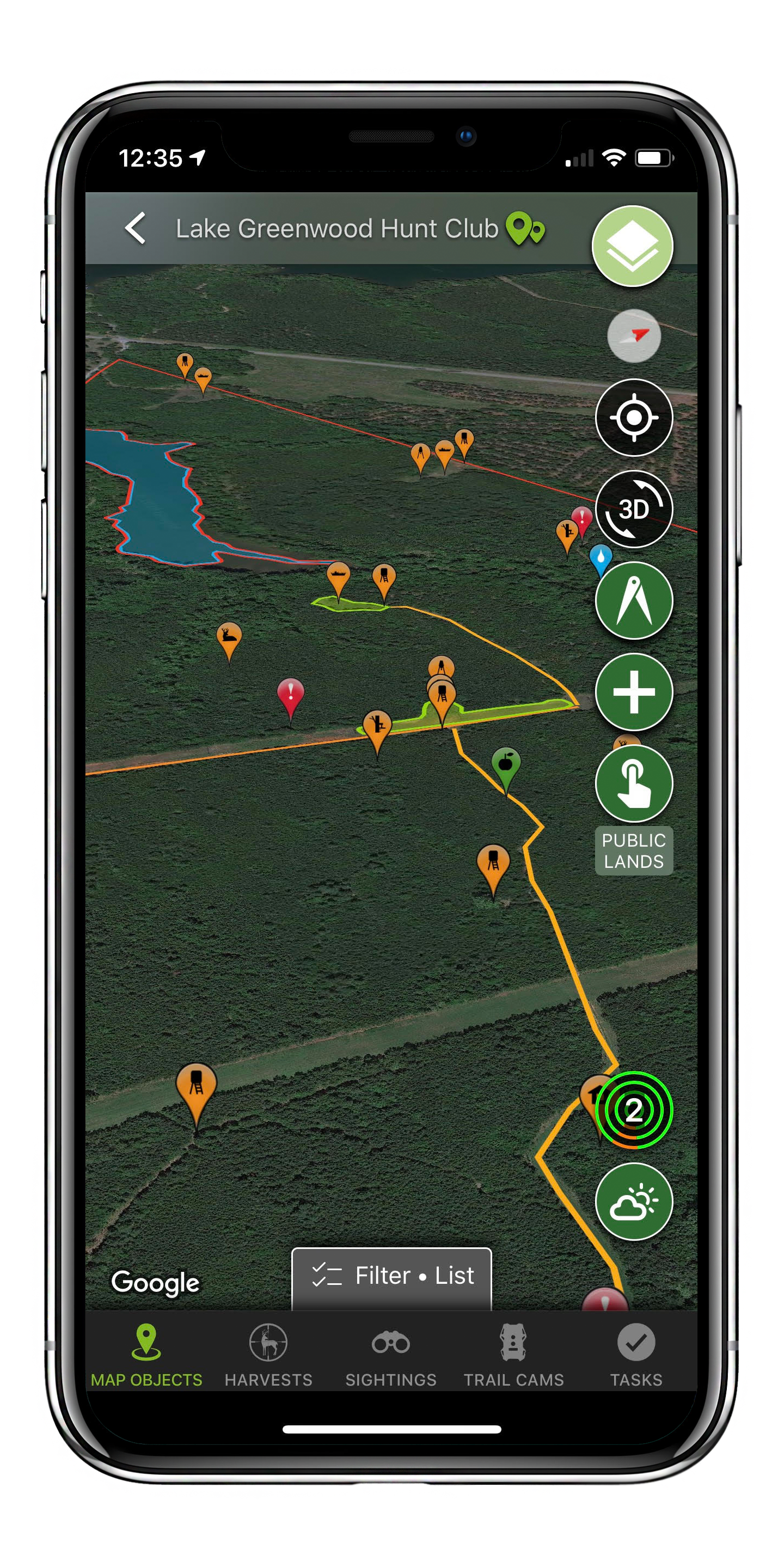 ---
Map Markers:
Completely map out your Hunt Areas using our 45 distinct map markers. These cover everything from stands, blinds, and feeders to parking areas and structures.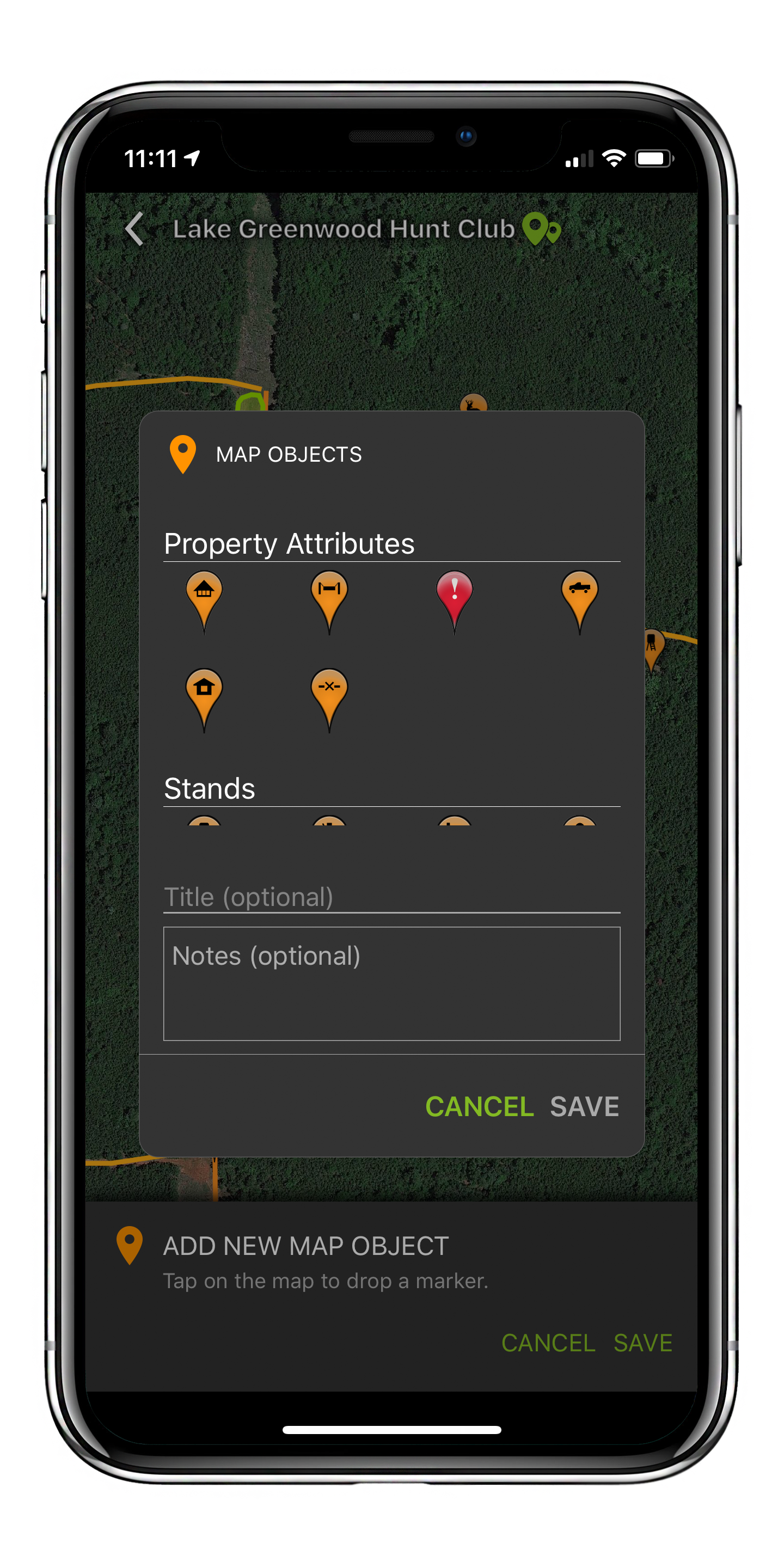 ---
Map Lines:
Easily add 5 types of lines including roads, trails, paths, fences, and "other" to your maps.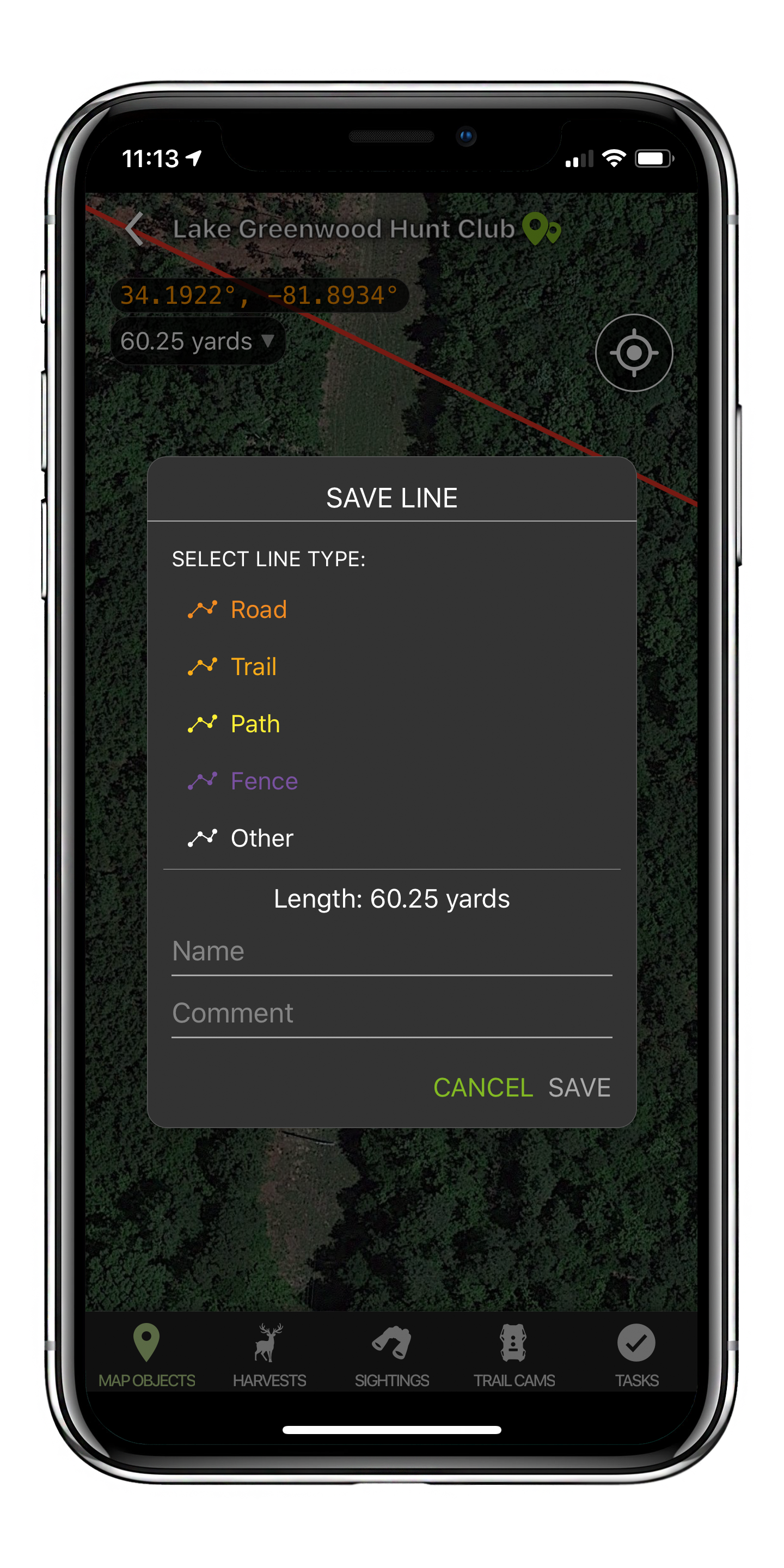 ---
Map Shapes:
Create 5 types of shapes including boundaries, food plots, sanctuaries, water, and "other" to your maps.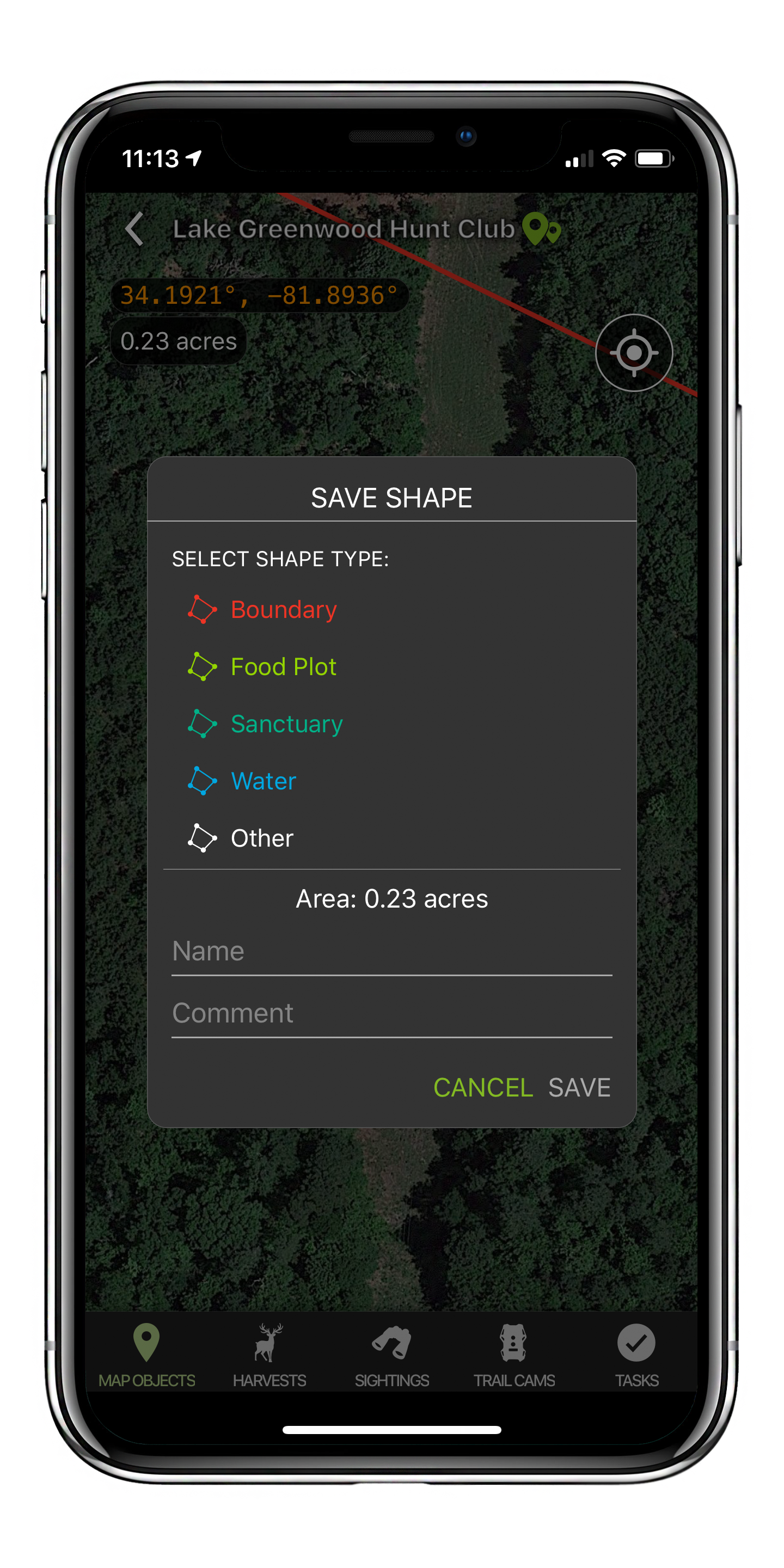 ---
Multiple Base Layer Options:
Select from multiple free base payers for your maps (or upgrade to Pro to unlock many more). Free tier layers include Google Satellite, Google Hybrid, Google Terrain, Mapbox Outdoors, (with trails, contour lines, park boundaries, and more) USGS Topo Quad, Google Contour, and Google Streets. That's a lot of options entirely for free!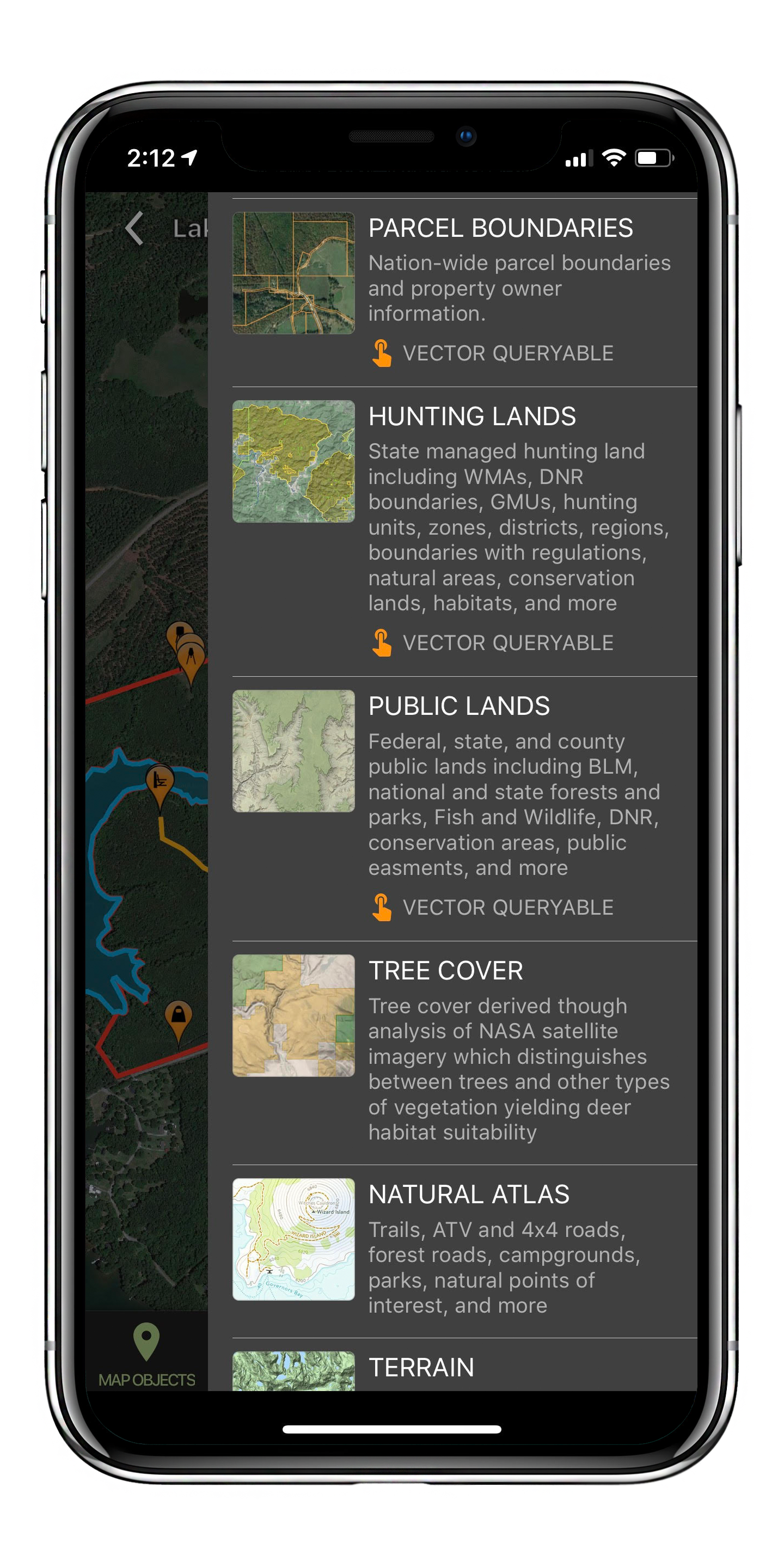 ---
---
Land for Sale:
View property listings anywhere in the country. This tool shows you recreational land for sale close to where you hunt. View immersive property listings to further explore a listings' attributes.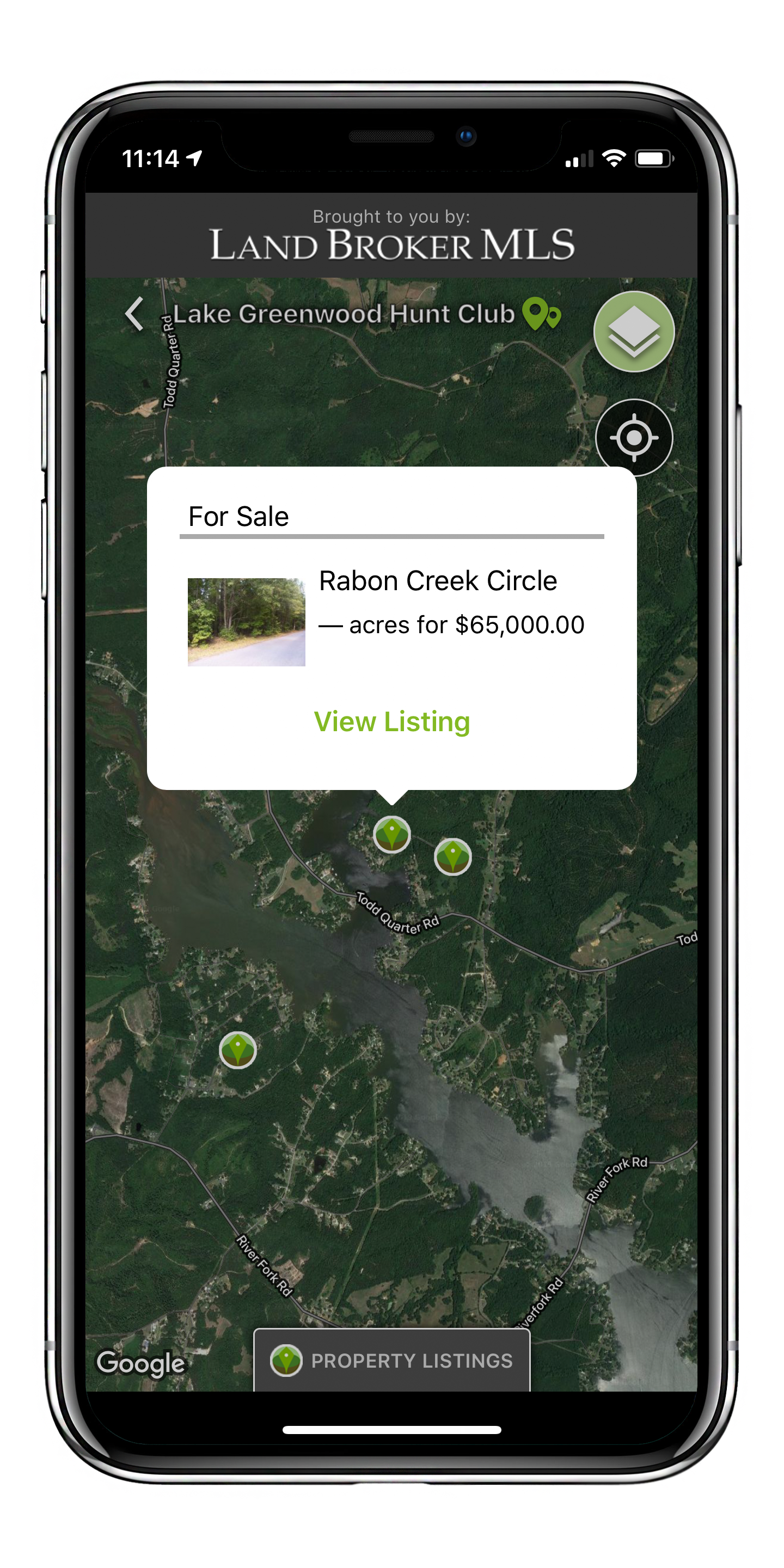 ---
Area Measurement:
Use this tool to accurately measure the area of any shape. This is great for determining how much seed or fertilizer you may need for a field or food plot.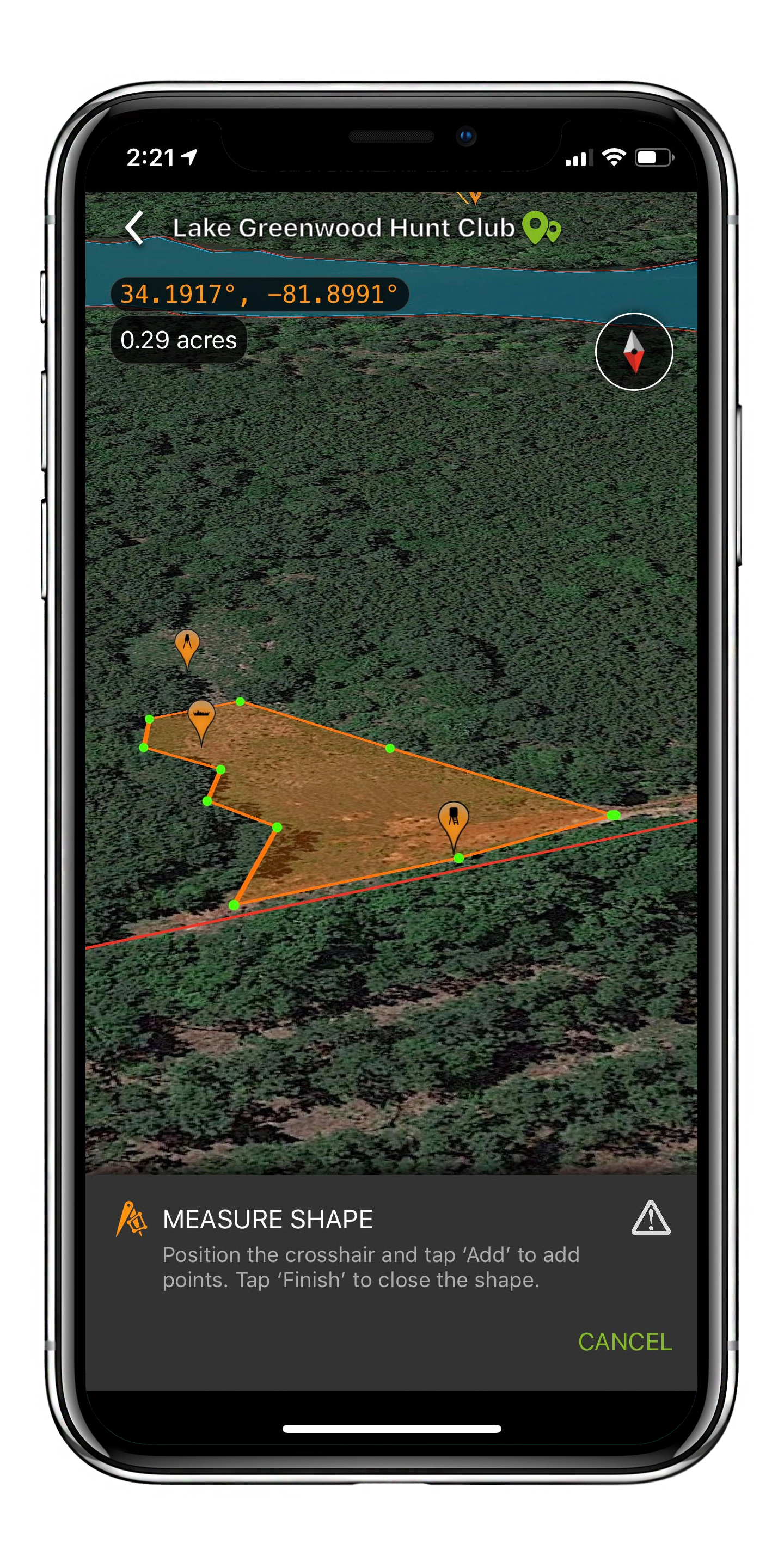 ---
Distance Measurement:
This tool can measure the distance between any two points or a series of points in feet, yards, or meters. This allows you to determine the length of a shot, see how far a stand is from another hunter or from a major food source, or plan things like where to park.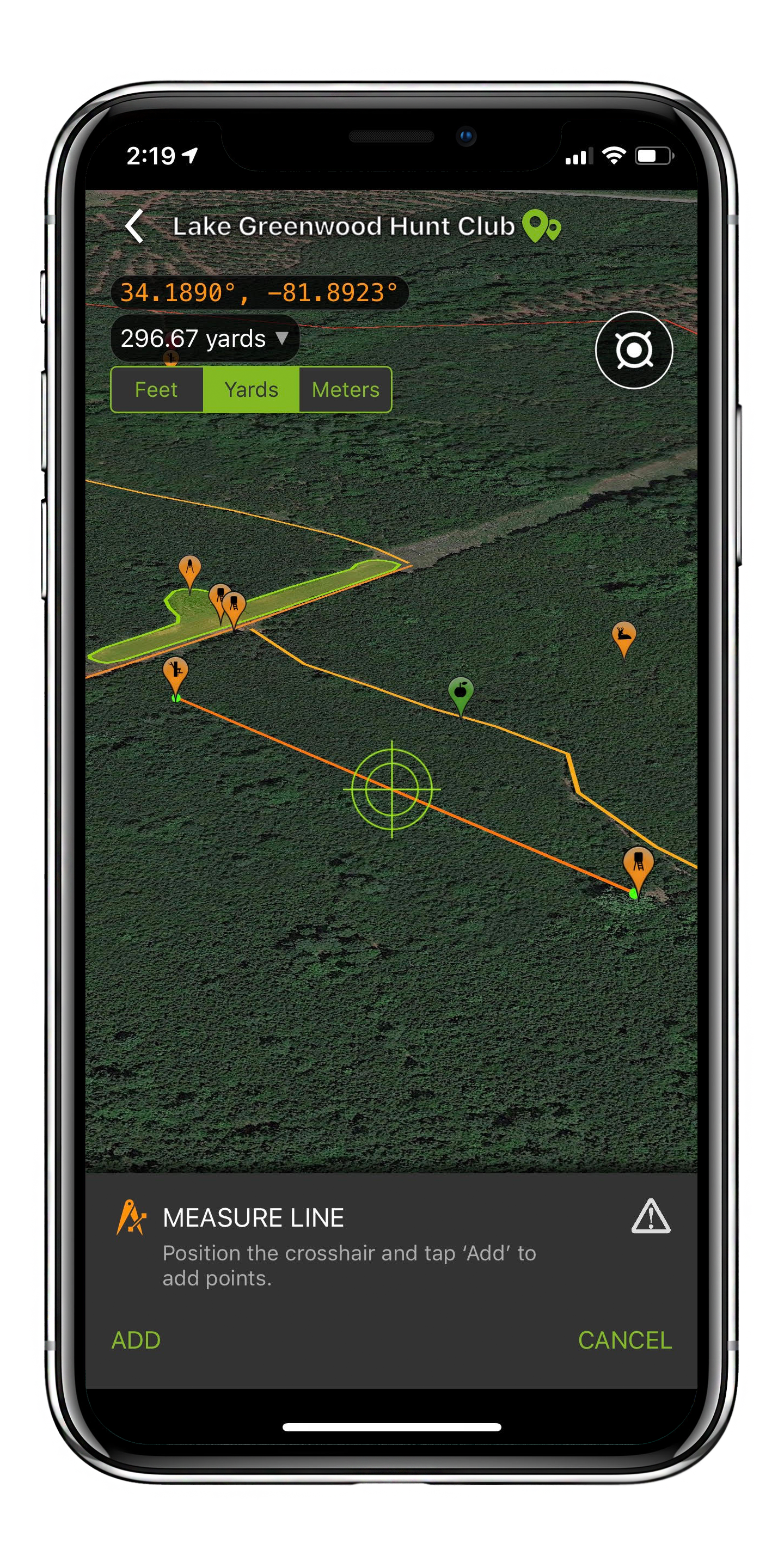 ---
Sightings/Harvests:
Use this segment of the app to log sightings and harvests. Any log entries you make will automatically include the weather and solunar information at the time you made the Sighting or took the Harvest. It's never been any easier to pattern animals in your Hunt Area.
---
Real-Time Friend Finder:
This feature allows you to view where your hunting friends are in real time while out in the field.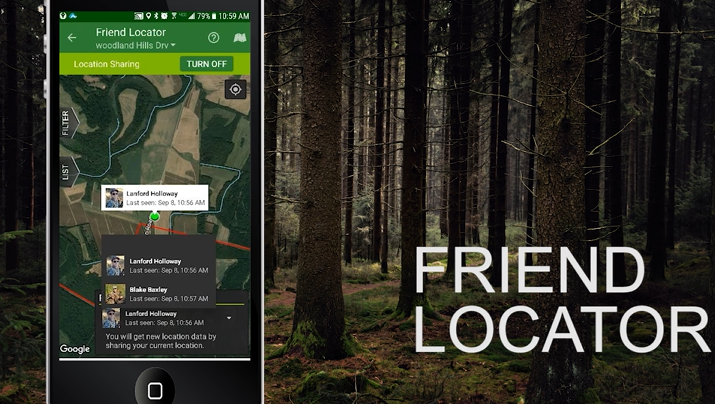 ---
Tasks:
Use our task management feature to log the location of tasks in your Hunt Area. Easily add pictures and notes to your tasks and sort by "completed" and "outstanding" activities. This is a great feature both for individuals as well as Hunt Areas managed by groups.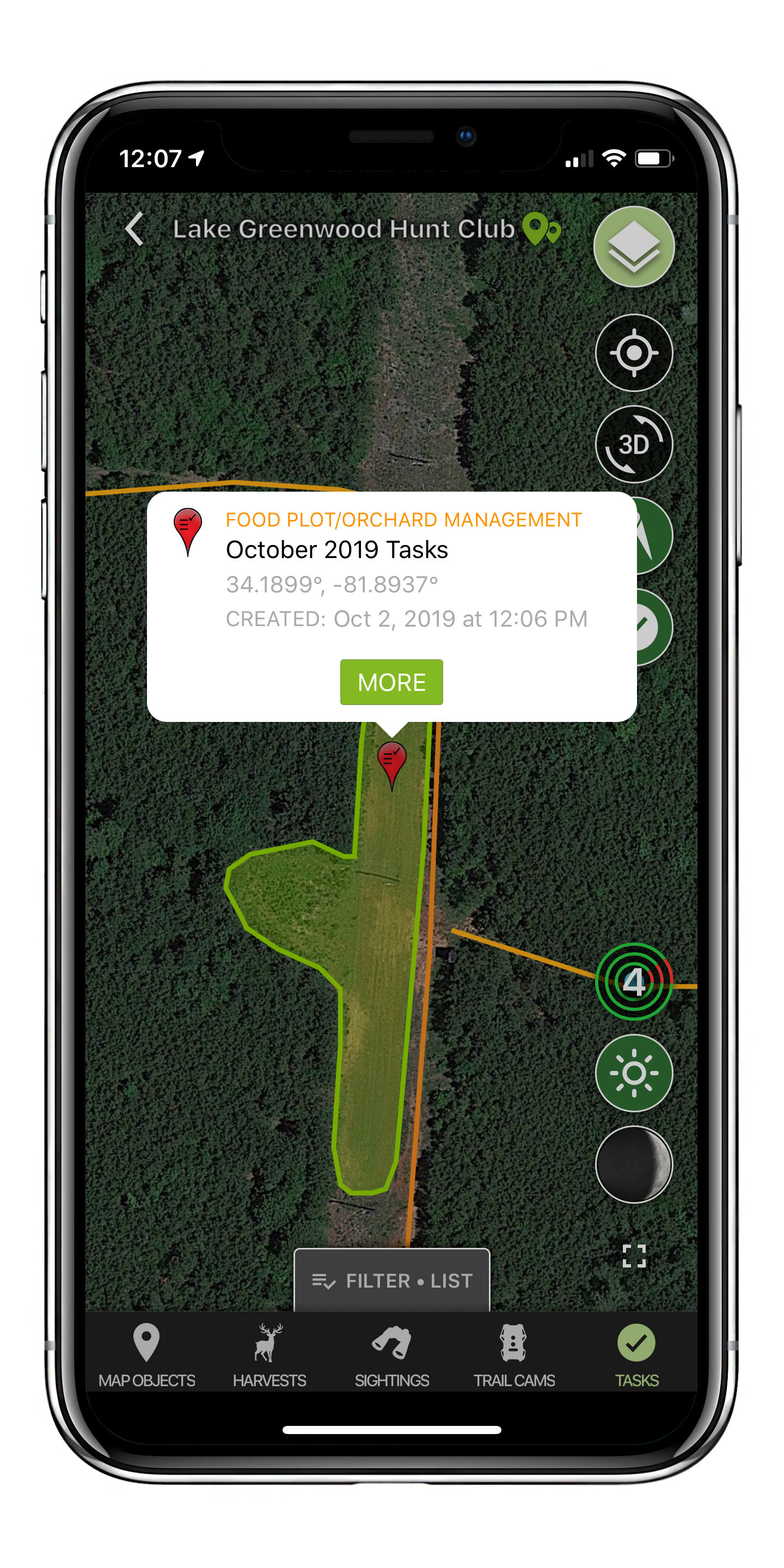 ---
---
Map Prints:
Once you have created a detailed map of your Hunt Area you can order an incredibly high-resolution printed map in several materials in sizes up to 3ft by 4ft. You will not believe the clarity of these images. Click here to learn more.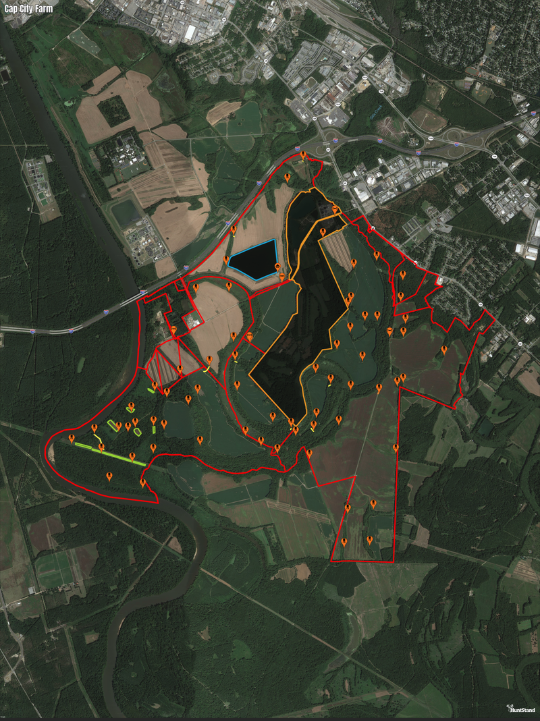 ---
---
HuntZone:
Our patent pending HuntZone technology allows you to see the impact of your scent over time in the most efficient way possible. We show wind speed, direction, and time in one simple unified package. Never get busted by the wind again.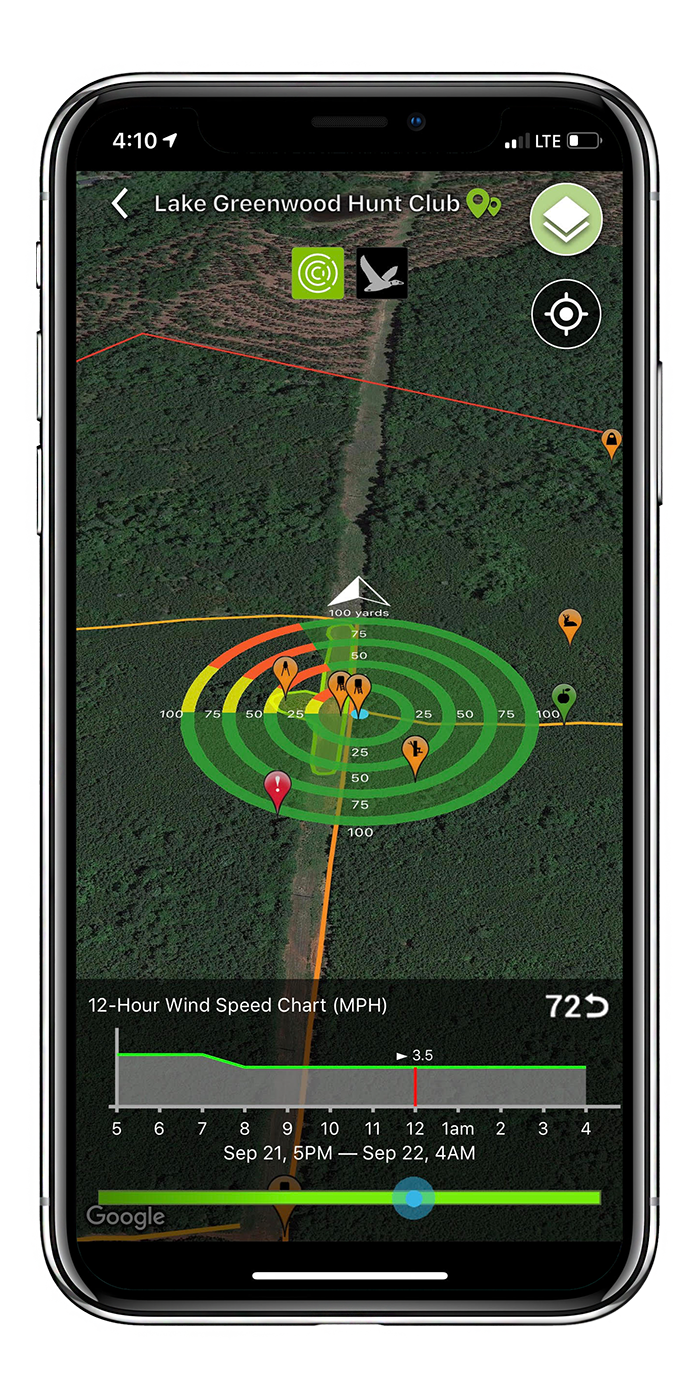 ---
LandZone:
The LandZone follows the same concept as the HuntZone but is used for waterfowl hunting to determine where waterfowl will most likely land. You can plan your waterfowl set-up based on the wind speed and direction information from this tool.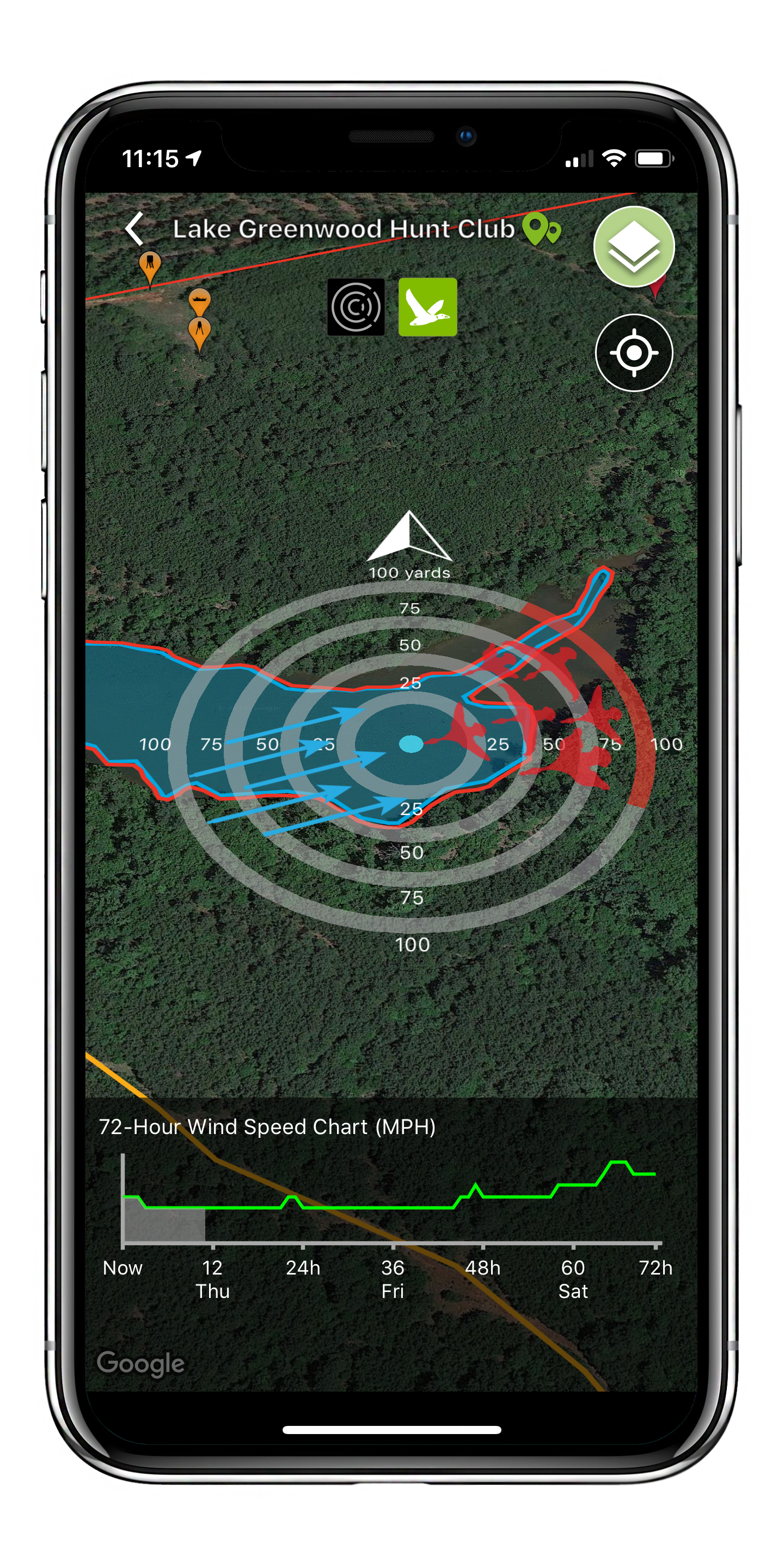 ---
Current Weather:
This tool shows you vital weather information for your selected Hunt Area.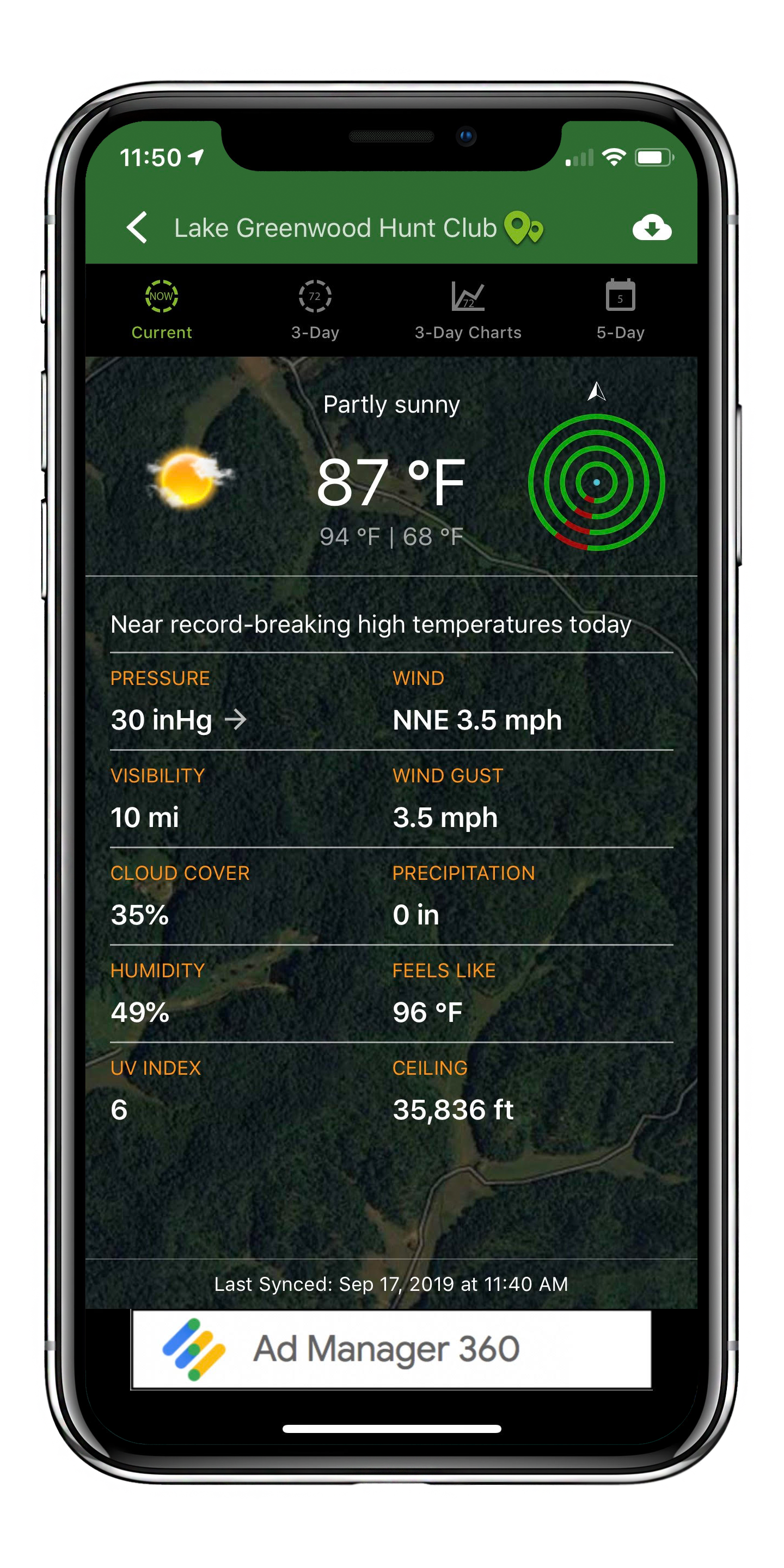 ---
72 hr Weather List View:
The 72 Hour weather segment allows our users to view hourly weather details three days into the future.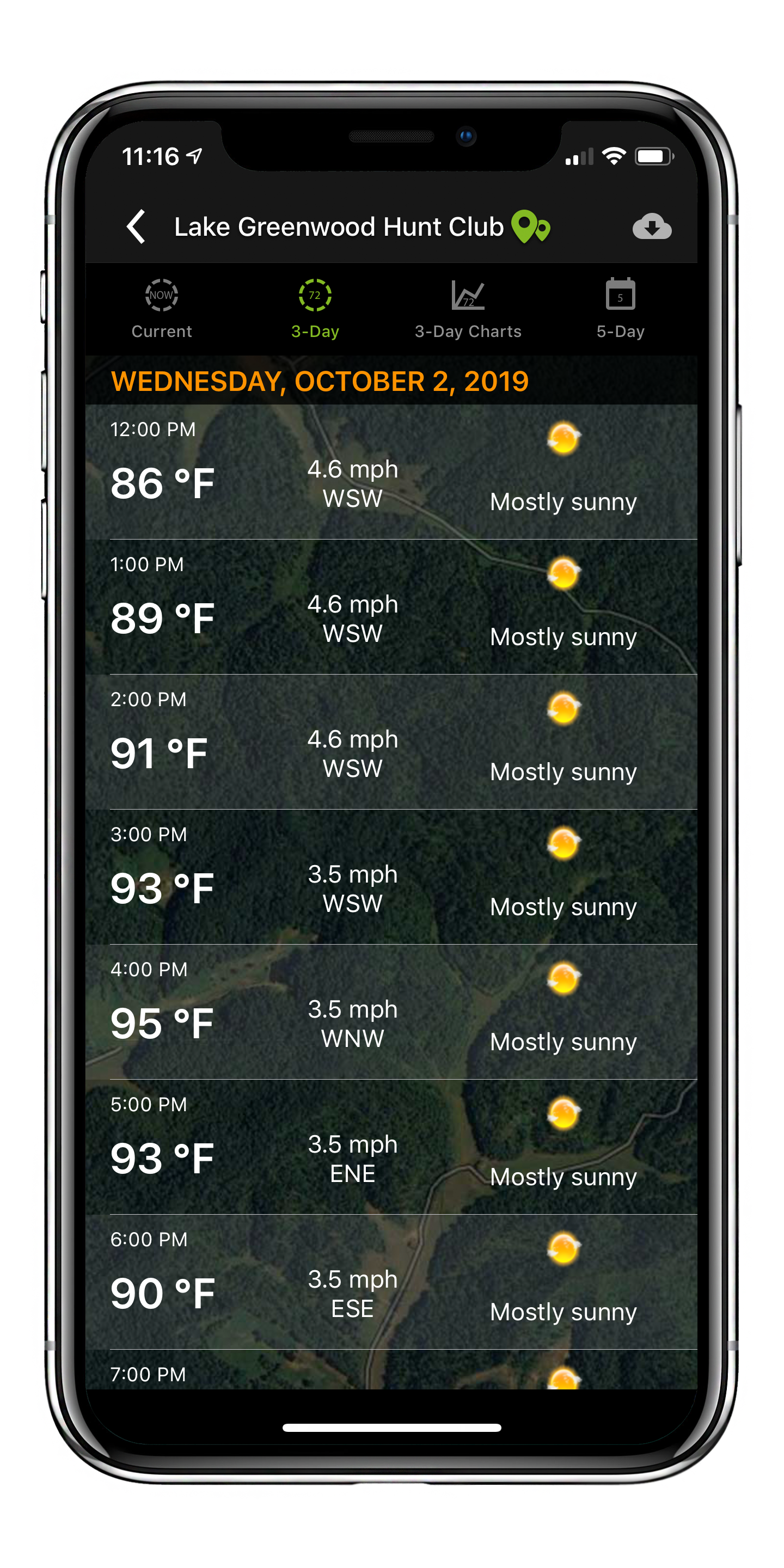 ---
72 hr Weather Graph View:
The 72 hour Graph view allows users to view temperature, wind speed, chance of precipitation, and cloud cover on one unified and easily digestable view. You can "scroll" forward through time to find the perfect conditions for your activity.
---
5 Day Forecast:
The 5 Day Forecast gives a high-level overview of the weather conditions over the next 5 days so that you can plan your outings accordingly.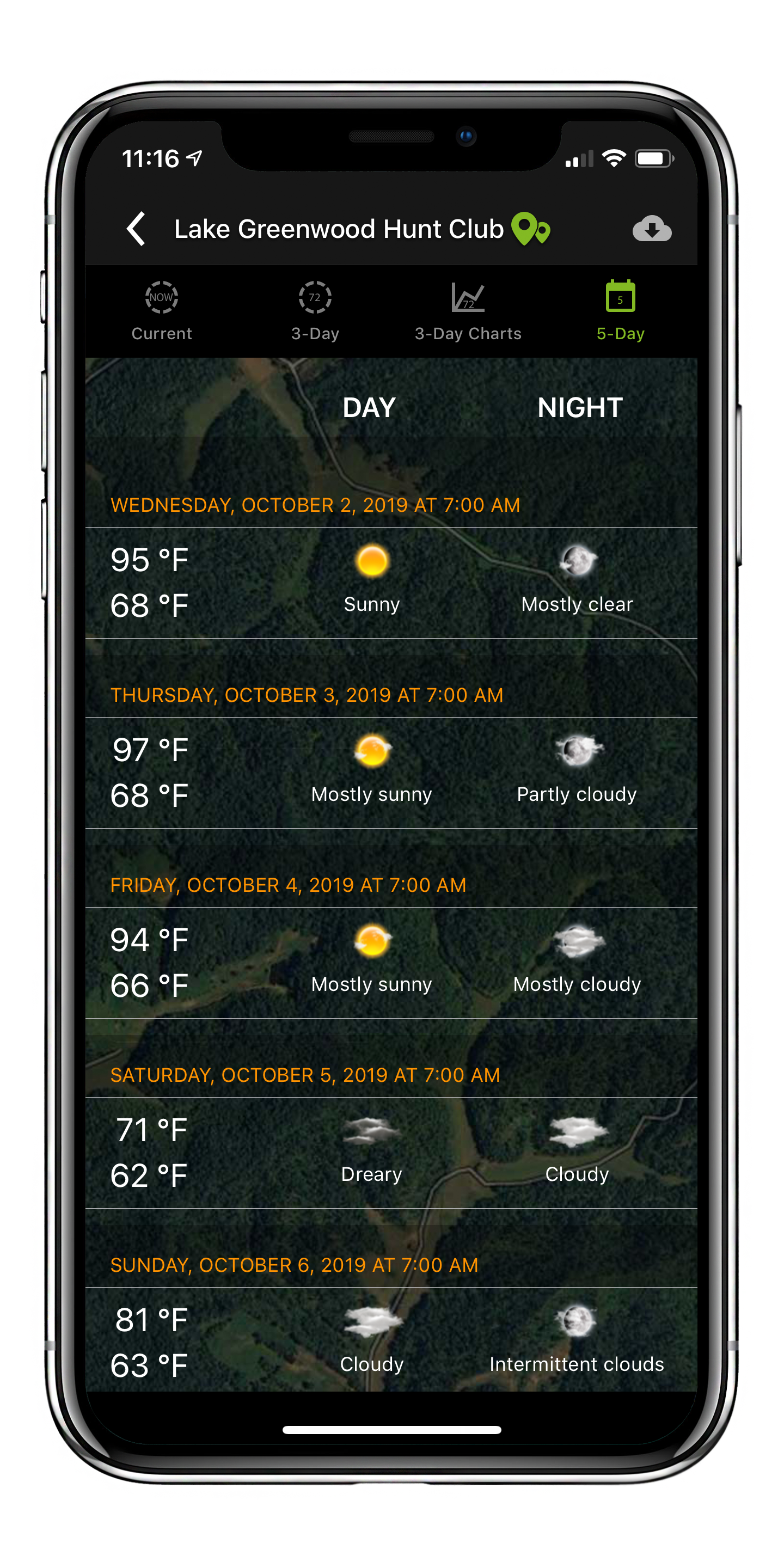 ---
Solunar:
Our Solunar page includes sunrise/set and moonrise/set information as well as the AM/PM major and minor feeding times for your selected Hunt Area. This information will better enable you to plan hunting trips.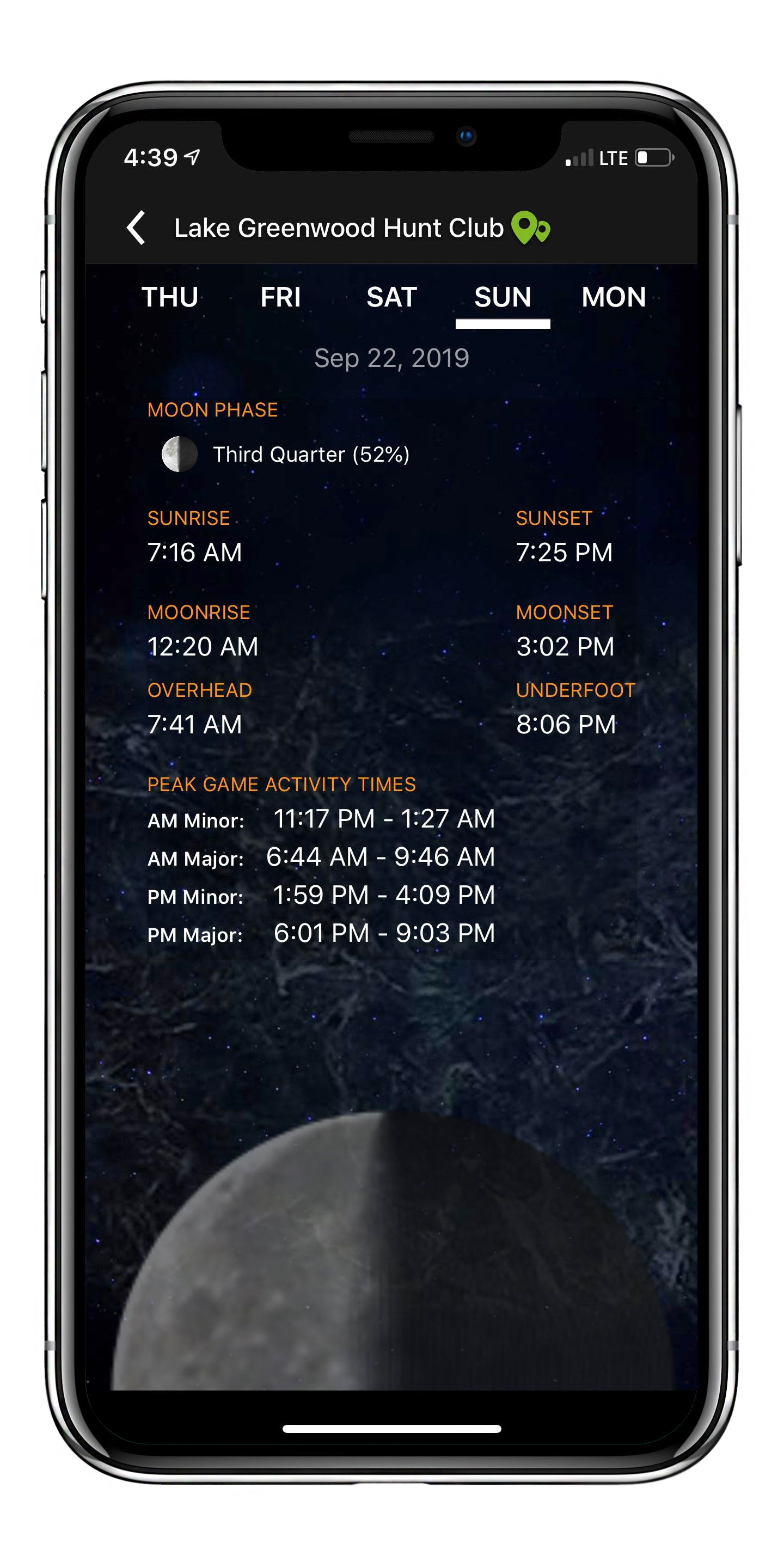 ---
---
News Feed:
Our News Feed shows actions taken by your friends and also includes articles and stories related to hunting and land management.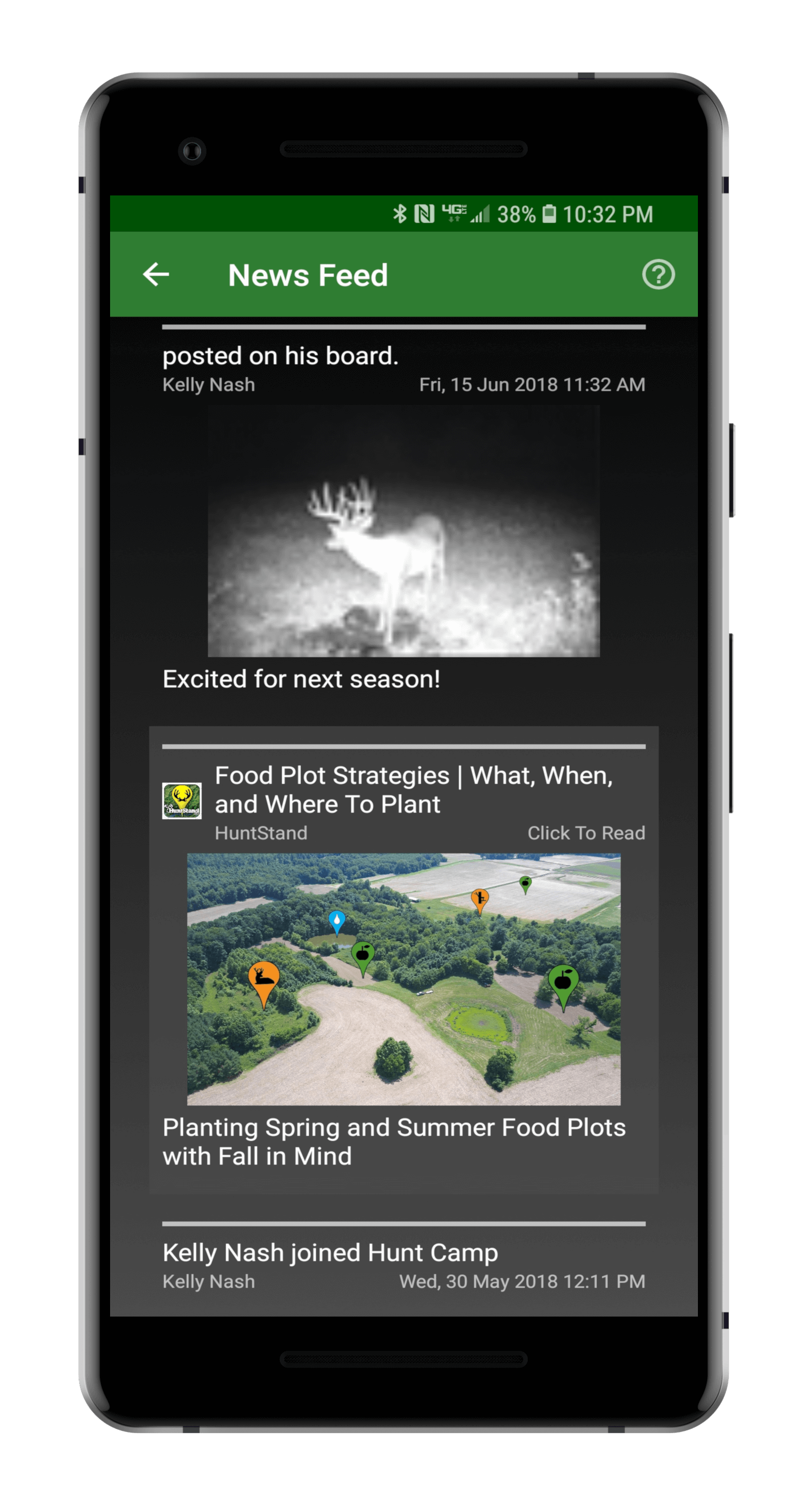 ---
Group Message Board:
Engage in group chats with all of the members of your Hunt Area. This is a great way to collaborate and share information.
---
Create maps and share them with your hunting buddies:
Edit maps as a group, but control access.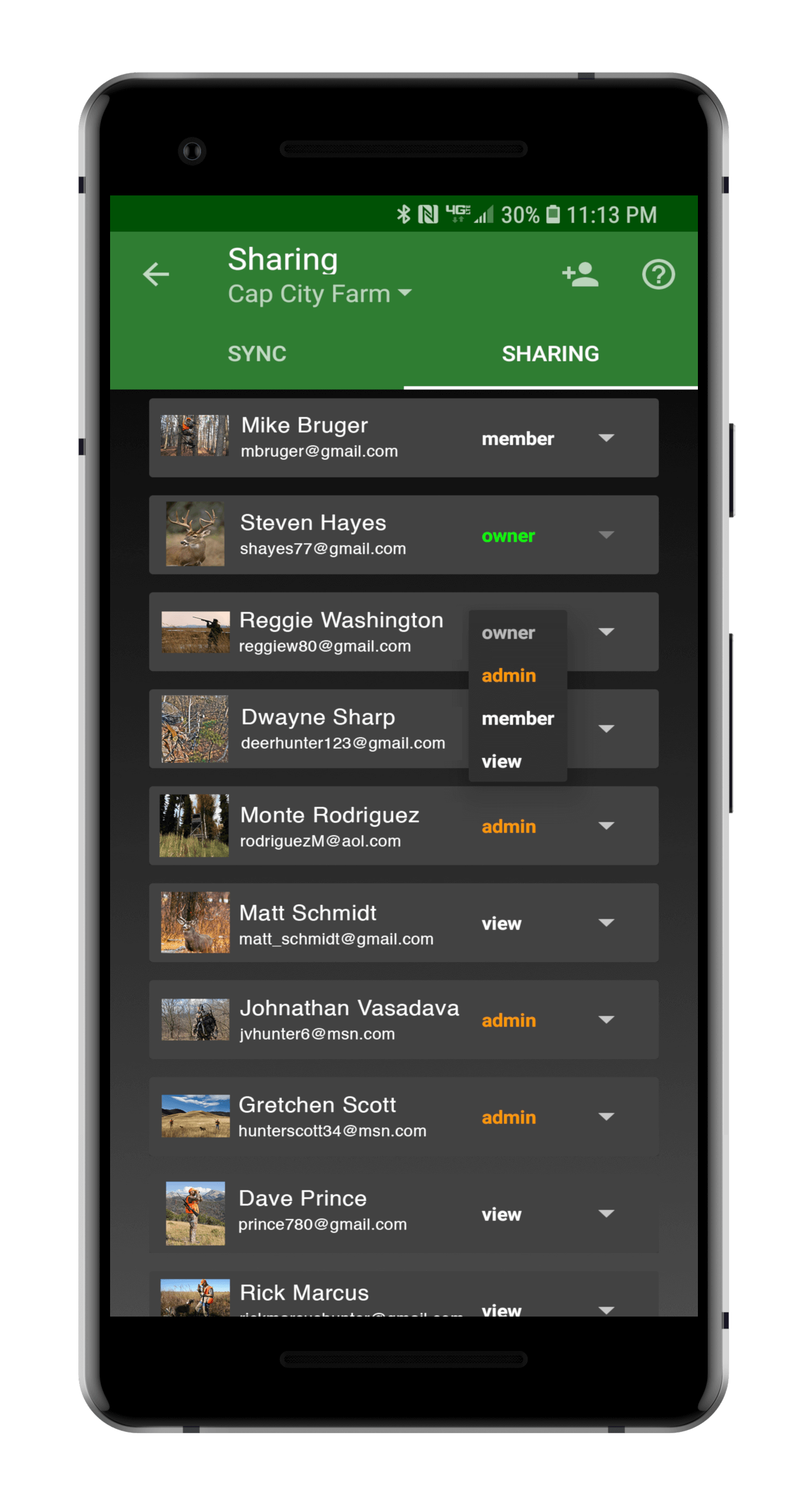 ---